We conduct SDGs investment that contributes to the future of Japan and Asian based on venture capital investment and an unique Asian network.
Business Portfolio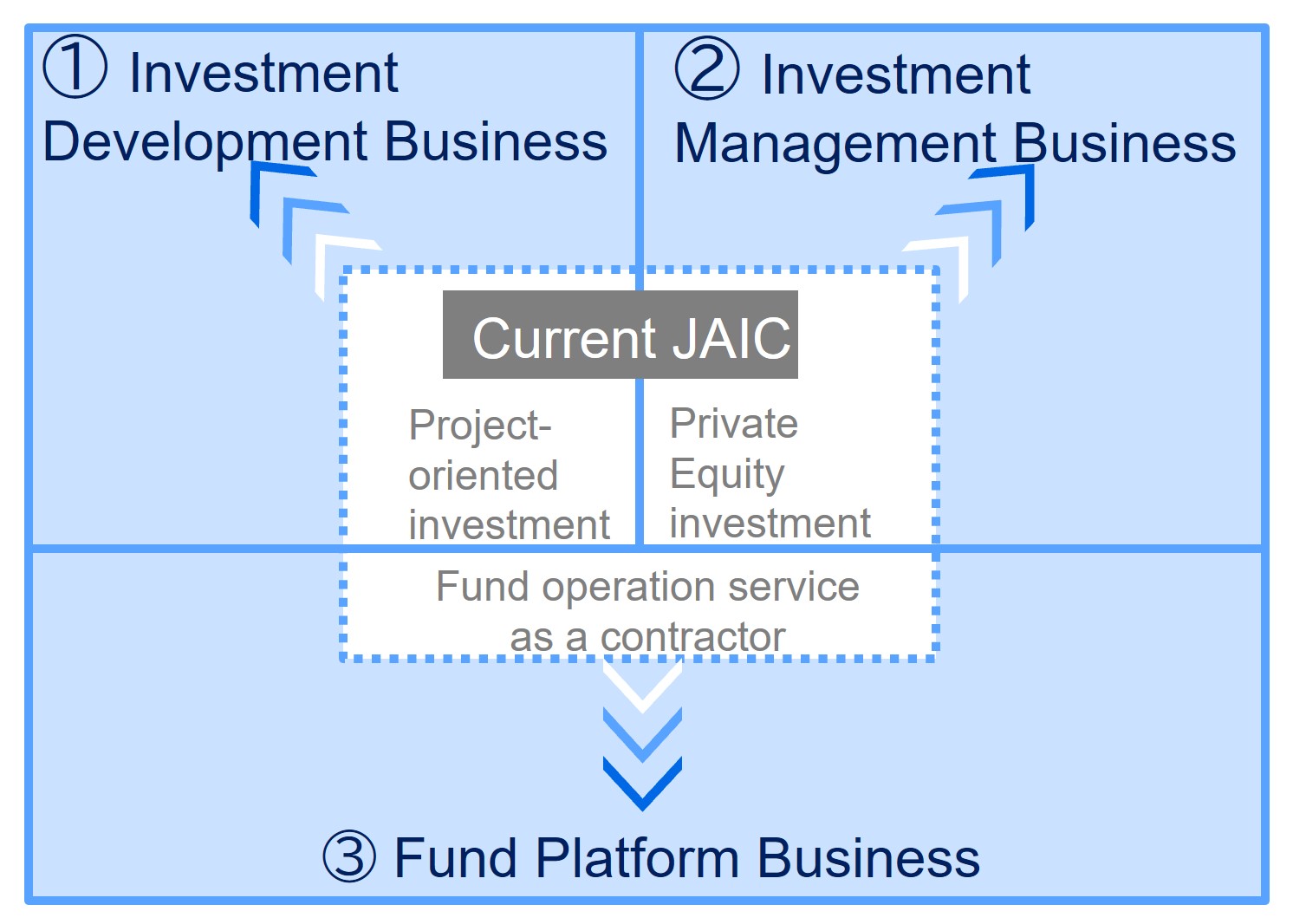 There are two types of investments in business field of JAIC Group in the Asian region including Japan.

One is project oriented investment. We invest in SPCs (special purpose companies) that own facilities such as power plants, factories, residential facilities and warehouses. We construct these facilities and receive the profits generated by the operation of the facilities in proportion to the investment. In some cases, these facilities are sold for profits after completion. We invest in projects such as renewable energy, healthcare (facility for the elderly, group homes for the disabled), smart agriculture (plant factory), and distribution center (logistics warehouse).

The other is private equity investment. It is an investment in promising companies centered on venture companies and small and medium-sized enterprises. We support investee companies to increase their corporate value and obtain capital gains.
We also perform intermediary business as an FA based on the needs of M & A obtained through our investment activities.
Project oriented investment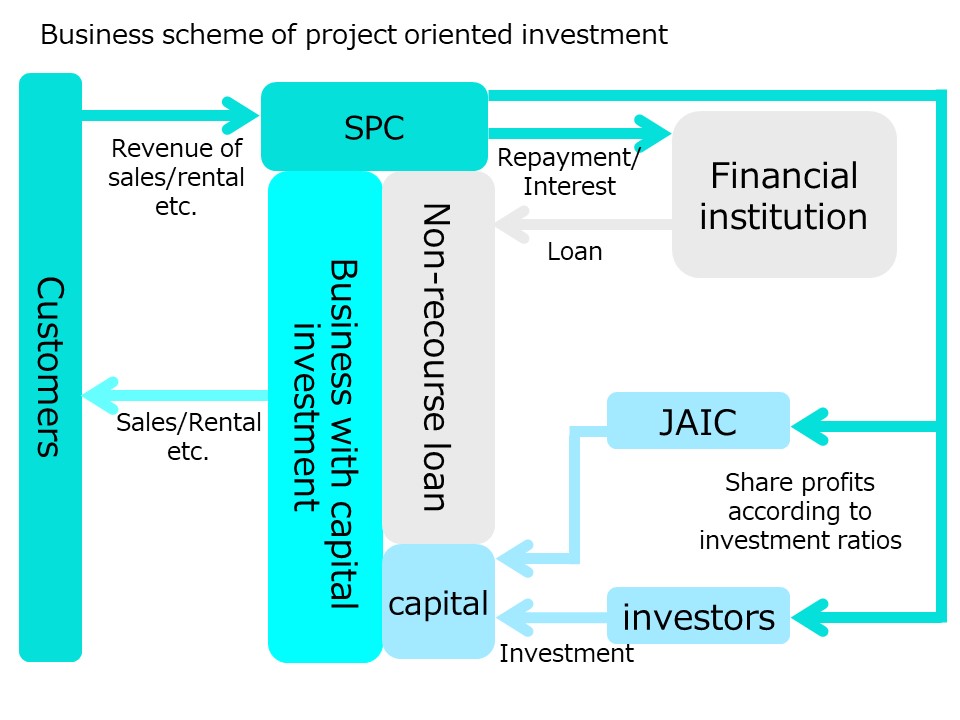 A feature of our project oriented investment is that we are pursuing high profitability with a small amount of investment funds by procuring non recourse loans from financial institutions. Most of the funds for the construction and operation of the project is procured by these loans.

In addition, in order to flexibly invest in projects in various fields, we collaborate with venture companies that are familiar with project planning and development. The development and operation of a project requires advanced skills such as industry knowledge, know-how, technical ability, and bargaining ability. These management resources, which cannot be covered by JAIC alone, are provided by partner venture companies, and we are mainly responsible for providing investment funds and negotiating with financial institutions.
Private Equity Investment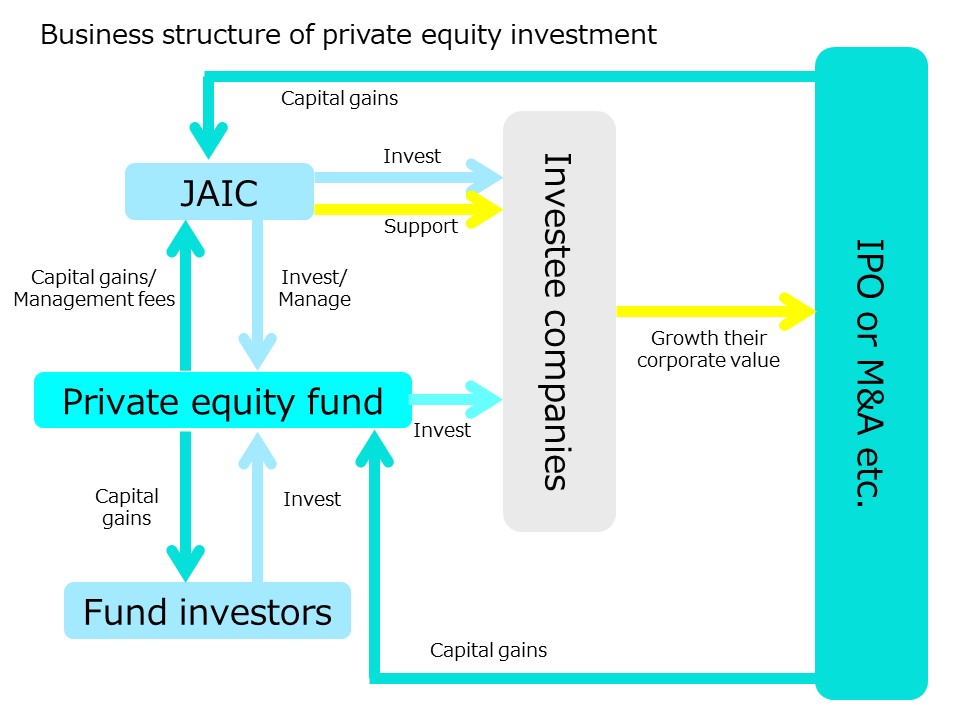 There are two types of private equity investments. One is "strategic investments" in partners of project oriented investment and the other is "financial investments".

For investees of strategic investments, we not only support them as shareholders, but also manage projects together as partners and support their growth.

For investees of financial investment, we provide not only the listing support but also provide overseas expansion support and sales support. We utilize our experience and wide network which we have built up through many years of investment activities when we support our investees. To that end, we are building a network in Asia by forming business alliances with government agencies in China and partner companies in Asian countries.
M&A Brokerage
We provide Financial Advisory Services for M&A opportunities which we may capture through our investment search activities.
We find investment and profit opportunities by supporting overseas/business expansion needs of our client, taking advantage of our networks both at home and abroad.